The soul of jazz
(New Times & tomorrow, june 1993)
A miracle is in store for you, but you aren't yet aware of it and arc full of doubts. The first one creeps while they appear on the scene: provincial-looking boys and girls wearing modest sweaters of indefinite colour and shoes worn down at heels. The youngest of them is eight; the oldest, fourteen. Why, are they jazzmcn? Too young to play in a Big Band!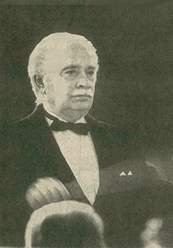 Your scepticism grows as the children seat themselves at their stands. How will they manage musical instruments meant for grownups? The drummer is almost unseen beyond his percussion instruments. The basso saxophone is a head higher than its master. The bass guitar seems enormous and nearly falls off a tiny girl's lap.

You are already prepared to listen to something very simple, in the spirit of amateur school concerts, and to cheer up the young talents by your condescending applause. But the conductor gives a sign, the introduction begins - and you can't believe your ears: a powerful rhythmic drive: one breath; dramaturgy of rests; the incredibie ensemble work. Groups sound steady; syncopes, accents, passages, exquisite nuancing - all perfect, joyful and inspired. And no handicap because of age. The audencc meets each improvization with mounting ovations. This crescendo of applause is worth much: almost half of the audience arc professional musicians, some of them firstrate.

The performance by a children's orchestra from Krivoi Rog led by Alcxander Ghebel became perhaps the major, but not the only, sensation of the Big Band Festival held late this May in the Moscow Estrada Theatre. The Festival itself, organized jointly by the Moscow Jazz Association and the GosCo jointstock company (Russia's biggest concert organizer), was sensation enough. The President of the Association, the well known musician and composer Yuri Saulsky, and his sympathizers managed to do something incredible in our uneasy times: they gathered seven first-rate en-sembles, not only from various cities, but even from various countries, on one scene at a time. This has so far never been accomplished by anyone, even in America, the motherland of jazz.

More than that. The Festival was opened by the Oleg Lundstrem State Chamber Jazz Orchestra. which has every reason to claim to an endorsement in the Guin-ness Book of Recods. Oleg Lundstrem, 77, created his en-semble 59 years ago, which makes it the oldest not only in Russia, but, it seems, in the whole world.

For almost six decades this un-ique ensemble has survived one world war and two Soviet leaders who regarded jazz as an "im-perialist plague." "We've never played for Stalin or Krushchev." says Oleg Lundstrem. "We've al-ways played for common people who longed for our art in spite î I all bans."

This remark was quite proper at a big jazz festival. In our coun-try, the history of this optimistic and freedom-loving art was full of really dramatic pages. People en-joyed the excellent orchestras î I Zfasman, Varlamov, Minkh anil Rozner in the 1920s and 1930s. when jazz flourished. But after the war jazz happened to fall nearly the first victim to the Cold War. Many outstanding musi-cians were declared "cosmopoli-tans without kith or kin" and were separated from their audi-ence. The renaissance came only in the 1960s, when new young ta-lents began to appear and a national jazz school and clubs emerged. But even after that rock music, which bewitched the public, deprived jazz of a considera-ble part of its young audience. And yet...

"That an unprecedented Big Band parade is taking place in Moscow today is both unexpected and natural," believes Yuri Saulsky. "Jazz was one time banned and other time allowed; but like any genuine art, it has endured every hardship, retaining its world-class musi-cians and its audience."

The outstanding mastership of the most well-known CIS jazz ensembles which performed at the Festival, and the full house are the exhaustive evidence to it.

The seven jazz bands which took part in the Festival created music in our eyes, and each in its own way. The swing "retro" tradition, elements of the "prog-ressive" style, and vanguard experiments draw a multi-colour picture of the styles of contemporary jazz leaders, and each ensemble confirmed its own place in it. The brilliant performance of fragments of the cycle "Music of the World's Best Big Bands" by the Belarus band led by Mikhail Finberg, the heir to the famous Eddie Rozner band, revived our memories of the intransient values of classical music of Duke Ellington, Count Basie and Glenn Miller. Swing classics and contemporary scripts are the basis of the repertoire of the orchestra led by the patriarch of jazz, Oleg Lundstrem. The Novosibirsk band led by Vladimir Tol-kachev, which stands out for a special quality of band sound, literally astonished the audience by its interpretation of Ger-shwin's "Summertime."

Our musicians derive inspiration not only from overseas. A participant of many domestic and foreign jazz festivals, the Municipal Rostov-on-the-Don Jazz Band led by Kim Nazaretov has recorded Murad Kazhlayev's author's disc and re-peatedly returns to works by domestic composers. One of the most interesting and promising in this respect turns out to be the Urals Jazz Band led by Nikolai Baranov, which was created only two years ago. In it, a group of talented solo-ists, forming small jazz combos, draw the public's attention. And the still younger ensemble led by our famous composer and pianist Anatoly Kroll, which specializes in jazz "ever-greens" in their original ver-sions, caused a special admira-tion of the public by excellent female singing.

And last but not least, our young musicians. Their leader Alexander Ghebel, a person of a surprising natural gifts, writes most compositions and makes most arrangements for them himself. He sparkles with new themes and new ideas. Take, lor instance, his interpretations of Ukrainian folk songs. Of course, Ghebel has to reckon with the possibilities of young performers, but the audience is practically unaware of it. Some "grown-up" ensembles have reasons to envy the light, happy and free swinging style of the band. "I try to raise the slat as high as possible," Ghebel told me. "And the kids never let me down." Of course, the children do their best. But only God knows what efforts their leader has to make - each year the hand is renewed almost by half.

1 think that serious musicol-ogists will still have to unravel the riddle of the unusual talent of Ale-xander Ghebel, this extremely modest and charming teacher of music in a reg-ular municipal music school. This is worth doing in the interests of the future of our jazz. Who knows, perhaps the key to this riddle are the words once said by the unforgettable Charlie Parker: "Music is your own experience, your wisdom, your thoughts. If you don't live by it, your instrument will never produce any-thing of value. You are taught that music has its own limits. But art has no limits, old buddy."



Sergei Golyakov